Modelo de ecosistema digital de gestión de recursos laborales en el militarismo económico
Palabras clave:
recursos laborales, transformación digital, modelo de ecosistema empresarial, administración, plataforma digital
Resumen
Este artículo tiene como propósito estudiar la gestión de recursos humanos en condiciones de incertidumbre, debido a las acciones militares actuales, en el mercado laboral de Ucrania, con el fin de desarrollar un modelo de plataforma en línea de recursos laborales para el gobierno de Ucrania, considerando el desarrollo de las tendencias del concepto "Human Cloud". En las actuales condiciones bélicas del país, la incertidumbre en el desarrollo de los sectores económicos (construcción, arquitectura, industria marítima, puertos, construcción naval, producción agrícola) y el fortalecimiento de la influencia de los factores negativos del entorno externo e interno sobre los recursos laborales, los peligros y amenazas en la gestión del sistema, son cada vez mayores, afectando negativamente la calidad de la toma de decisiones y la ejecución de proyectos. Para prevenir estos retrocesos en el contexto de una economía militar, se propone aplicar los principios del concepto de "Human Cloud", en base a sus ventajas para lograr un equilibrio entre asegurar la capacidad de defensa del país y la estabilización económica. Para ello se propone un modelo de plataforma en línea basada en un enfoque ecosistémico. La construcción de plataformas en línea se basa en un modelo agregador (Aggregator Business Model) que no requiere coordinación y proporciona infraestructura para proyectos que consiste en una gran cantidad de microtareas. Se ha comprobado que en el contexto de las operaciones militares es necesario desarrollar tecnologías digitales transformadoras, reformar los procesos institucionales y conectar la fuerza laboral en una sola "nube" para realizar tareas en entornos operativos cada vez más complejos.
Descargas
La descarga de datos todavía no está disponible.
Citas
Altman E.J., Kiron D., Jones R., and Schwartz J. (2022) "Orchestrating Workforce Ecosystems: Strategically Managing Work Across and Beyond Organizational Boundaries," MIT Sloan Management Review and Deloitte, https://sloanreview.mit.edu/projects/orchestrating-workforce-ecosystems/
Apollo Technical (2022). Statistics on remote workers that will surprise you (2022). https://www.apollotechnical.com/statistics-on-remote-workers
Bantash, A., Koval, V., Bashynska, M., & Kozlovtseva, V. (2020). Balanced territorial economic development in the conditions of providing stability of human resources management. Economics. Ecology. Socium, 4(3), 58-66. https://doi.org/10.31520/2616-7107/2020.4.3-6
Beirão, G., Patrício, L., & Fisk, RP (2017). Value cocreation in service ecosystems: Investigating health care at the micro, meso, and macro levels. Journal of Service Management, 28 2, 227-249. https://doi.org/10.1108/JOSM-11-2015-0357
Caminiti, S. (2018). 4 gigs economy trends that are radically transforming the US job market. https://www.cnbc.com/2018/10/29/4-gig-economy-trends-that-are-radically-transforming-the-us-job-market.html
Center for Economic Strategy (2022). Economic Review in July. Recovery Here and Now. https://ces.org.ua/
Elkington, J. (2004). Enter the Triple Bottom Line. In Henriques, A. and Richardson, J. (Eds.), The Triple Bottom Line, Does It All Add Up? Assessing the Sustainability of Business and CSR (1-16).
Harbar, Z., Selezneva, O., Litvinov, O., Kaptalan, S., & Gonchar, V. (2020). Strategic Marketing Management Of Innovative Activities In Ensuring Enterprise Economic Security. REICE: Revista Electrónica de Investigación en Ciencias Económica, 8, 298–313. https://doi.org/10.5377/reice.v8i15.9961
Healy, J., Nicholson, D., & Pekarek, A. (2017). Should we take the gig economy seriously? Labour and Industry, 27 (3), 232-248. https://doi.org/10.1080/10301763.2017.1377048
Kaganer, E., Carmel, E., Hirscheim, R., & Olsen, T. (2013). Managing the human cloud. MIT. Sloan Management Review, 54(2), 23–32.
Kaminsky, OY, Yereshko, YO, Kyrychenko, SO, & Tulchinskiy, OV (2021). Training in digital entrepreneurship as a basis for forming the intellectual capital of nation. Information Technologies and Learning Tools, 81(1), 210–221.
Koval, V., Polyezhayev, Y., & Bezkhlibna, A. (2018). Communicative competences in enhancing of regional competitiveness in the labour market. Baltic Journal of Economic Studies, 4(5), 105-113. https://doi.org/10.30525/2256-0742/2018-4-5-105-113
KSE (2022). Diagnosis of the state of Ukrainian business during the full-scale war between Russia and Ukraine. https://kse.ua/wp-content/uploads/2022/03/KSE_Business_Report.pdf
Laktionova, O., Harbar, Z., Melikhov, A., Slobodianiuk, O., Gevko, V., & Desiatskyi, S. (2022). Financing the greening of enterprises in industrial regions of Ukraine in the context of sustainable development. Management Theory and Studies for Rural Business and Infrastructure Development, 43, 574–584. https://doi.org/10.15544/mts.2021.52
Mazur, A., & Kubai, O. (2019). Scientific-methodological and practical principles of regional economic systems integration. Baltic Journal of Economic Studies, 5, 117. https://doi.org/10.30525/2256-0742/2019-5-2-117-123
Prokopenko, O.V., Zieba, K.K., & Olma, S.M. (2016). Efficient and Effective Management of Knowledge of Seniors as an Element of Organization Development. Marketing and Management of Innovation, 2, 181–187.
Rating Group Ukraine (2022). The ninth nationwide poll: socio-economic problems during the war (April 26, 2022). https://ratinggroup.ua
SIA (2018). The human cloud, the gig economy and the transformation of work. https://www2.staffingindustry.com/content/download/266526/9732110/2018_GigEconomy_Summary_Web_1810.pdf
Statista (2022). IT Services. https://www.statista.com/statistics/1114926/enterprise-spending-cloud-and-data-centers/
Stewart, A., & Stanford, J. (2017). Regulating work in the gig economy: What are the options? The Economic and Labour Relations Review, 28(3), 420–437. https://doi.org/10.1177/1035304617722461
UNHCR (2022). Ukraine Refugee Situation n. https://data.unhcr.org/en/situations/ukraine
Velickovic, P. (2017). Unsupervised methods. Diving deep into autoencoders. University of Cambridge, UK. https://www.cl.cam.ac.uk/~pv273/slides/UCLSlides.pdf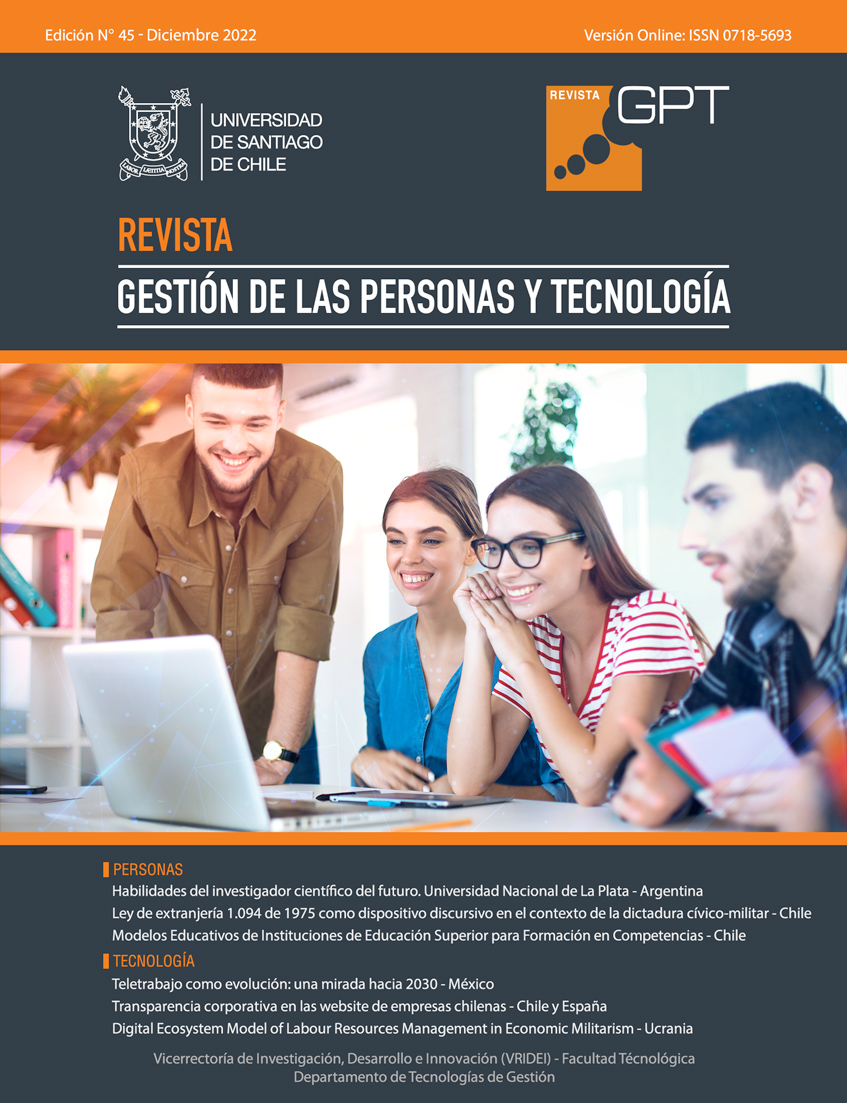 Cómo citar
Koval, V., Kaminskyi, O., Brednyova, V., & Kosharska, L. (2022). Modelo de ecosistema digital de gestión de recursos laborales en el militarismo económico. Revista Gestión De Las Personas Y Tecnología, 15(45), 21. https://doi.org/10.35588/gpt.v14i45.5902